Description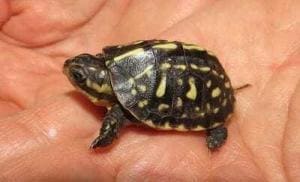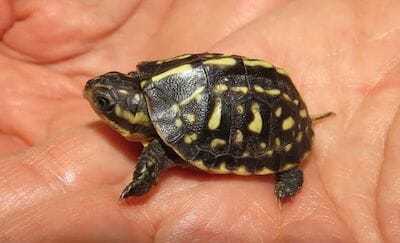 The Florida box turtle is a small to medium turtle. Florida Box Turtle is one of the well-known subspecies of box turtles that exist in North America. In both appearance are different than it's northern and western cousins the Eastern Box Turtle or the three toed box turtle.  Floridas can be quickly identified by black elongated shells with that flare at the rear edges.
keeping a captive bred Florida box turtle for sale
Floridas are fantastic little turtles,  are small, friendly and don't bite. Like all captive bred reptiles, there are a few things to keep in mind before acquiring a captive bred Florida box turtle. In the wild, Florida Box turtles are solitary creatures and do not need companions. However, in captivity, they do well in groups of females and males only introduced for breeding.  If you are considering more than one baby Florida box turtle for sale, get females.  They need to be protected from other household pets, such as a dog. They are sensitive to their captive environment and can take time to become comfortable. And lastly, they are fun to watch but they do not enjoy being handled.
Florida box turtle habitat
While it is true that the Florida Box Turtle makes its home in the wild in damp wetlands, marshes, and open woodlands, it rarely enters deep water and remains in shallow areas.  A lot of the Florida box turtles' habitat has been severely depleted or fragmented.  This, coupled with other things have lead to a great decline in its population. As of today, the Floridian box turtle is protected and considered threatened.  If you live in Florida, keep in mind that it may not be removed legally from the wild anywhere within the state. Fortunately, captive-hatched babies, from box turtle breeders of this popular turtle are being produced from the large captive populations.
Florida box turtle Care and diet
Florida box turtles are omnivores and feed on a huge variety of food in the wild. In captivity, Floridas are especially fond of live food.  Insects can make up a large part of the Florida box turtles' diet.  Feed insects such as earthworms, superworms, redworms, wax worms, crickets, and even goldfish in water.  In addition to live foods, you can offer chopped fruits and vegetables. Lastly, offer chopped dark leafy greens like lettuces and kale.  Also, they love fruits such as melons, berries, cantaloupe up to twice a week.
At turtle store, all of our baby Florida box turtles for sale come with our full live arrival and 7-day health guarantee.  Our baby Florida box turtles for sale are all cared for by our in house biologist, allowing you to shop with confidence.  When purchasing any box turtle for sale from our turtle store, we promise to give you the best customer service possible, and a healthy, safely shipped turtle or tortoise for sale.  Like all of our other turtles for sale, our box turtles for sale ship via UPS or FedEx overnight in heated, or cooled insulated shipping containers.  Turtle store ships year round, anywhere in the United States
Be sure to check out all the water turtles for sale, including baby turtles for sale at our sister store, TT!
Florida box turtle come as baby Chinese box turtles, well started Florida box turtle babies, yearlings and juveniles.  All of our baby box turtle ship overnight via UPS or fedex and arrive on your doorstep the following morning. We ship in heated and cooled containers year round.  Be sure to check out all turtles for sale, as well as all of our baby turtles for sale as well as tortoise for sale.